Archibald Cameron Corbett: The Man and The Houses, a new film about the creator of the Corbett Estate, had its inaugural screening on Saturday 20th January 2018 at St Andrews Church Hall in Catford. The church hall was packed out with residents keen to learn more about their founding father.View image on Twitter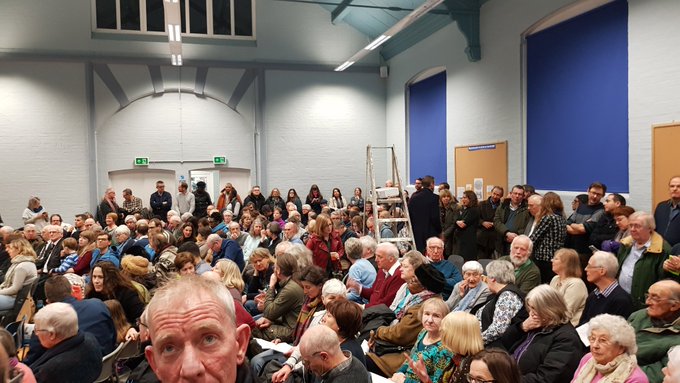 Amazing turnout for the #corbett film tonight: a brilliantly put together account of the man and his houses.1310:37 PM – Jan 20, 2018See Tamara Froud's other TweetsTwitter Ads info and privacy
The film, presented by author Lucy Mangan and starring Father Lindsay McKenna as Corbett himself, gives an insightful and comprehensive look at the man whose vision formed the Corbett Estate in Catford and beyond. It starts with Archibald's formative years in Glasgow and his visits to sites of historic importance in France and Italy, and follows his journey to his time in Parliament as a liberal MP campaigning for better conditions for young workers, against unfair immunity from taxation for landlords and for the suffrage movement. The houses, of course, play a huge part – from Corbett's first project, the Woodgrange Estate in Forest Gate, to his achievements in Ilford, Eltham and Catford.
From left to right: Father Lindsay McKenna, presenter Lucy Mangan, Archibald Corbett Society founder Peter Ranken MBE, director Ben Honeybone and local historian Godfrey Smith
The film was introduced by Peter Ranken, founder of the Archibald Corbett Society, and followed by a talk from Lewisham Mayor Sir Steve Bullock who then introduced a Q&A with the film's director and producer Ben Honeybone, presenter Lucy Mangan, Father Lindsay McKenna and Corbett's great-great-grandson, Jason.
Sir Steve led the Q&A with the question: with all his achievements, why isn't Corbett better known? Ben answered that although Corbett was an important figure at the time – elected to Parliament eight times in Scotland – he was a very modest man, and probably wouldn't have wanted a biography! Jason described the film as one of the best he'd seen about his family, and said he'd learnt a lot.
A local resident said she was profoundly moved by the film, and rapt from beginning to end. Corbett's story has much relevance today – with our current housing crisis, would that we could replicate and do the kind of things that Corbett did today. Lucy Mangan agreed, saying that during the process of putting the film together, they thought at every turn "imagine if we had this kind of mentality now?".
Father Lindsay McKenna, of St Andrews Church in Catford, grew up near Rowallan House, owned by Archibald Corbett's first son Thomas Corbett (who became the 2nd Baron Rowallan in 1933). Father Lindsay talked about attending maths tuition at Rowallan House as a child, and realising the connection when he came to Catford eight years ago. In the film, Father Lindsay plays Corbett as an MP, speaking out in parliament on the issues he that mattered to him. Father Lindsay described becoming quite passionate as he re-enacted those speeches, talking about housing and fair wages for child workers and women's suffrage, and feels hugely privileged to have been part of the project. He said that watching the film has underlined that the area isn't just a bunch of houses – it's a real community with a beating heart.
Lucy Mangan, who grew up on the Corbett Estate in Catford, remembered going to a local history lecture when she was 12, and first hearing about the man who built the estate. Her parents still live here and she visits regularly, and she described being involved in the project as an absolute honour.
Another resident highlighted the vast number of people within the community who have such a wide range of skills and what can be done when those skills are harnessed. Peter Ranken agreed and gave the example of saving Torridon Library (now Corbett Community Library), which has been run by volunteers for 18 months – over 60 volunteers have been running the library and activities, proving what fantastic skills we have within the Corbett Estate. Another resident said that as a senior trade union representative he was initially against the idea of libraries being run by volunteers, but what the Corbett Community Library has achieved is incredible.
Ben gave thanks to everyone who's worked to make the film a part of our community, including his wife Jo and friend Steve who had played a huge role in the project. He also thanked the Heritage Lottery Fund, whose funding made the project possible. The aim is to have DVDs of the film available in the Corbett Community Library, as well as further screenings both in Catford and in Eltham, Ilford and beyond – watch this space for details. The film will also be available on this website in the future.